Lucky 21 is a great promotion with an easy way of making quick cash in the gaming and casino market under Royal Panda. Lucky 21 happens on the 21st of every month where 3 lucky winners are picked at random and get $210 cash. Participate in the blackjack live or in the blackjack live VIP and stand a chance to win BIG.
Win Extra Cash
To win the cash prize, all you have to do is to participate in the blackjack live or blackjack live VIP by midnight of the 21st of every month. There is no limit to how many times or how much you can participate. The selection is done randomly and by noon on the 22nd check out the Royal Panda facebook page to see whether you are among the 3 lucky winners.
Who Gets The Bonus Cash?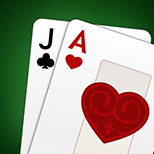 The bonus cash is up for grabs for anyone who participates in the game. Royal Panda has made it even better by offering no restrictions on the wager amount. This makes both low spenders as well as high rollers eligible to win the $210 cash. Time is the only thing of the essence as the play ends at midnight
Don't Miss Out On The Lucky 21
Don't fail to book a date on the 21st of every month with Royal Panda as a $210 cash reward awaits all you lucky winners and blackjack lovers. If you are a newbie to the game, the casino offers a section where you can learn the ups, downs and corners of the game. You can also like or follow their facebook page to stay up to date with Lucky 21 as well as other promotions from the site.