Long gone are the days of online casino promotions being only for the weekend. As competition heats up, more and more casinos are offering bonuses and offers throughout the entire week. We're here to tell you about the perfect hump day treat from Mega Reel Casino with their Happy Hour promotion on a Wednesday!
How Happy Hour Works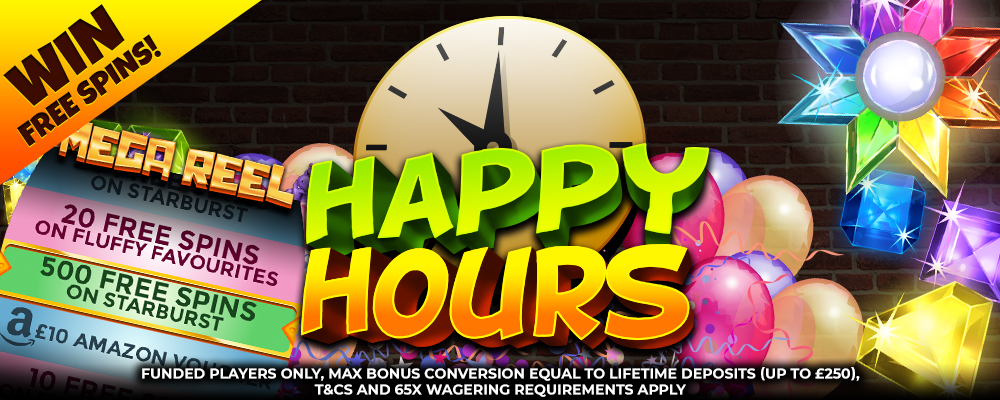 All you have to do to take part is log in between 3pm and 7pm on a Wednesday, for your chance to win 10+ free spins on a different slot every week.
You'll be rewarded with a free spin on the Mega Reel and the prizes range from 10 free spins, to 20, right up to 100 free spins. The game changes each week to keep it exciting too, so it's not always the same slot. The only catch to this is that you need to be a 'funded' player which means you need to have made a deposit of £10 or more within the week to be eligible.
So in a nutshell, it looks like this:
Deposit £10 or more before Wednesday
Login between 3-7pm on Wednesday for a spin on the Mega Reel
Enjoy your free spins
Other Promotions at Mega Reel
Mega Reel is an extremely generous online casino, with a large variety of different promotions going on at any one time. From double cashback in your first month, to cashback on every bet and regular free spins, there's always something up for grabs.
If you're new to Mega Reel, simply make a deposit of £10 or more and you'll be rewarded with a spin on the wheel for a chance to win up to 500 free spins to start your journey. It doesn't get much better than that!